The Roadhaven Billiards club has the nicest room in the valley. Over the summer 0f 2022 the room has been renovated with many improvements. We have 10 very well-maintained pool tables that are kept in the finest condition. The Billiard Club uses the membership fees and other fundraising efforts to regularly replace the cushions and the cloth on the pool tables, keeping these tables in peak performance.
The 2021 season saw a lot of exciting changes in the club with our membership growing to well over 100 members. We have had many people join who haven't played before. With our free lessons for new members every Monday and Thursday at 1:00 p.m. they are learning the game and having a lot of fun at the same time. With the new season rapidly approaching we are anticipating a lot of excitement for the improvements in the room.
Word of mouth is spreading rapidly and our membership is growing. The members meet every day at 1:00 p.m. for a friendly competition and Monday and Thursday at 7:00 p.m. Our new Wednesday event for couples at 7:00 p.m. has been a great success. Whether you've just started or been playing for years, it's a lot of fun.
LATEST CLUB ANNOUNCEMENTS
Come check out our new billiards room!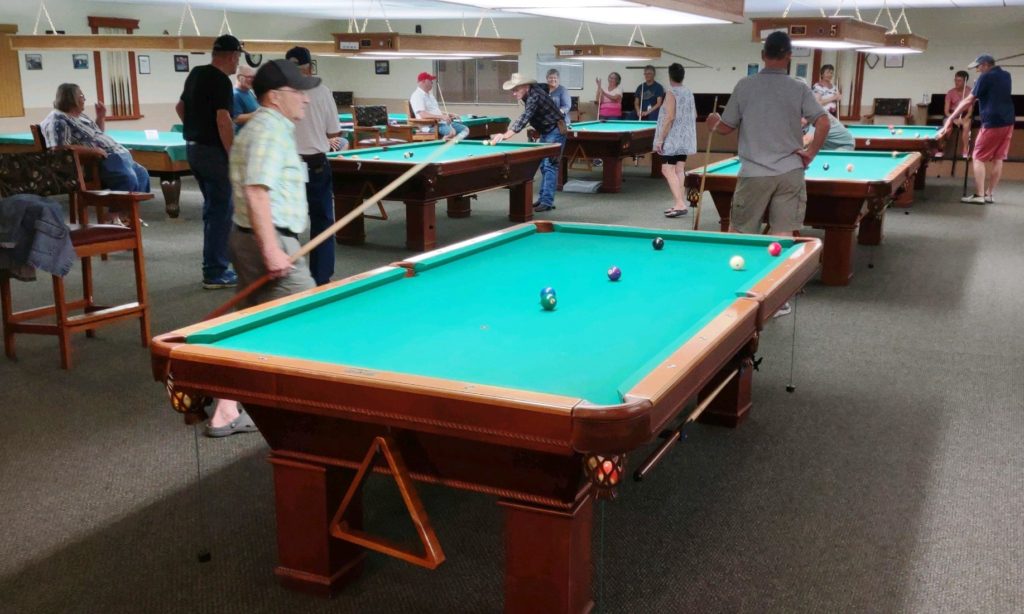 There are no fundraisers scheduled at the moment.
MIXED PLAY EVERY WED. AT 7:00 P.M. Both MEN AND WOMEN members are welcome. The only thing on the menu is FUN.
Click HERE for Calendar
Who can use the Billiard Room?
With 10 tables in the room there are 4 tables along the window – on the wall facing the pool area that are for use by all residents of Roadhaven. The other 6 tables that are separately identified are for use by members of the Billiard Club.
When can we use the tables to play?
During the season, the room is open, and the tables are available to use every day until 10 p.m.
I have never played so why would I join the club?
Every member of the Billiard club has free lessons available. We have lessons on Monday and Thursday from 1:00 p.m. to 3:00 p.m. Also Wed evening from 7:00 p.m. to 9:00 p.m. The best part is that new players play with people of their own skill level and as a result they are having a lot of fun and learning fast.
Do I have to play in competition, or can I play for fun?
We have something for every member. Roadhaven billiard members play in 3 different leagues that offer competition for those that are interested. We also have open play every day at 1:00 p.m. There is no commitment required. If you want to play just show up. If you are busy that's ok as well. The emphasis for every member is fun.
$20 each or $30 for a couple.
IMPORTANT DATES AND TIMES
Free Lessons for Members every Monday and Thursday at 1:00 p.m.
Mixed Play every Wednesday evening at 7:00 p.m.
Open play every day at 1:00 p.m. and Monday and Thursday evening at 7:00 p.m.
Summer Hours effective May 1, 2023. Billiards room is open 6AM-2PM, 7 days a week.