Club members must be Owners or Renters at Roadhaven. 
League play is Monday – Friday at 12:30 pm and 3:00 pm.  Teams are allowed 2 hours during the regular season to complete 3 games.
League play begins in January and the Tournament ends early March with a March Banquet to announce and congratulate the winners. 
League Fees are currently $10 per person, per season, to play in the leagues.   
2024 BOCCE BALL TEAM REGISTRATION
LATEST CLUB ANNOUNCEMENTS
What an interesting season! Despite the frustrating weather our club still experienced a fun-filled season that ended with a celebration to be remembered. Creative decorations, bountiful beverages, and delicious food.
Volunteers are the heart of our membership. Kudos to board members, the maintanence crews, the refs, the fundraising committee, and the captains who coordinate the communication with members. Thank you all.
Be sure to register for the 2023-2024 season. Forms are located above in the CLUB INTRODUCTION. No checks will be taken until November 2023.
Safe travels as you go back home. See you in the fall.
2022-2024 Tournament Winners:
1st Place TEAM MARGO 2nd-Place PURPLE REIGN 3rd-Place HOW WE ROLL 4th Place BONE SHAKERS
Medallions were presented.
2023-2024 Club Officers: President- Dave Birchill; Vice-President-Joe Dorner; Secretary-Donna Wagner; Treasurer- Marilyn Eekhoff; Substitute- Roberta Dorner; Registrar- Sandy Magnan; Schedule/Tournament – Rich Sims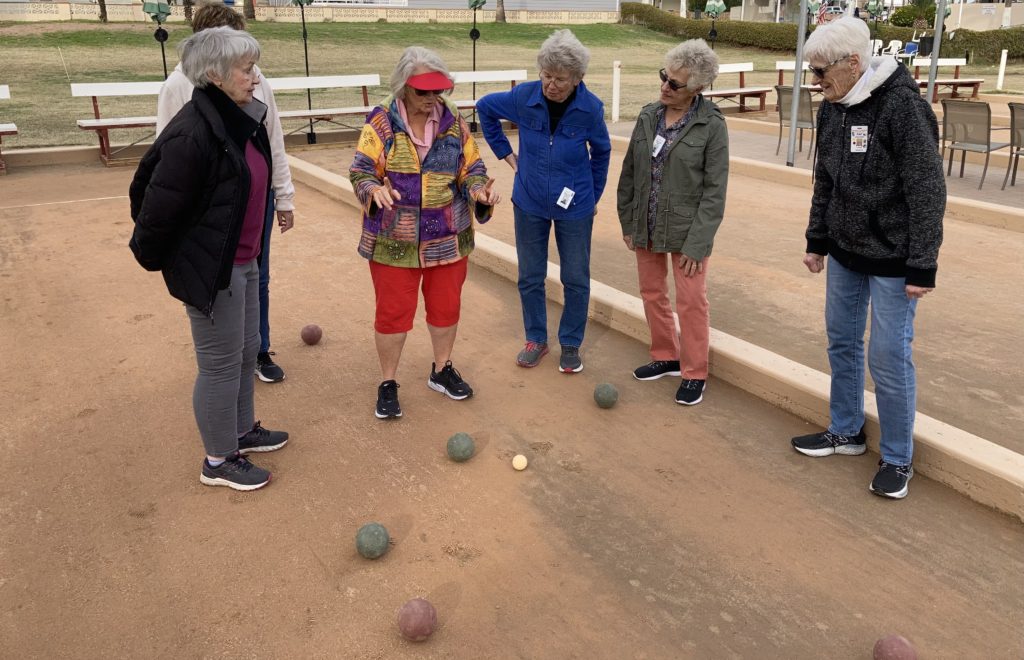 Bocce ball play is still possible despite the equipment removal.
You will find two orange Home Depot buckets with a set of bocce balls until April 15.
After April 15, the buckets will be next to the residence at 2380 Pomo. Use and return.
Can anyone use the Bocce Ball Court?
Yes! Residents can play anytime EXCEPT on Tuesday 9-11 (ladies only), during league play (M-F 12-5) OR when maintenance is being done at the courts. Sign-up sheets are on the bulletin board.
What happens if it rains?
Captains meet at the Rec Hall at the appointed game time. Team captains come up with a mutually agreed time to play. Games must be made up within 7 days.
Can a player come late and still play?
Yes, Each team member present must play at least one game.
What if my team needs a sub?
Call sub Co-ordinator Roberta Dorner at
780-863-9347. She will give you the next sub on rotation. DO NOT GET YOUR OWN SUB!
Can we use the courts when the season ends?
Yes, orange Home Depot buckets are available with bocce balls until April 15. After April 15, the buckets will be next to the residence at 2380 Pomo. Please use and return.
How do I contact someone about Bocce Ball.?
Email rhbocceball@gmail.com
IMPORTANT DATES AND TIMES
Bocce Ball Board Meeting: 12/1/2023 1:00 – 3:00 in Green Room
Bocce Ball Board Meeting: 1/2/2024 11:00 – 12:00 in Green Room Bocce
Ball Board Meeting: 2/6/2024 11:00 – 12:00 in Green Room
Bocce Ball Board Meeting: 3/5/2024 11:00 – 12:00 in Poker Room
Bocce Ball General Meeting: 1/4/2024 1:00 – 3:00 in Rec Hall
Bocce Ball General Meeting: 2/7/2024
Bocce Ball Fund Raiser: 2/2/2024 in Rec Hall