Our bowling league is comprised of 12 teams each having 4 members of which one must be of the opposite sex.
We bowl at Mesa East Bowl and it's a relaxed atmosphere league with emphasis on having fun regardless of whether your average is 100 or 200 or anywhere in between!
LATEST CLUB ANNOUNCEMENTS
Interested in bowling? We may have some team openings and we always welcome substitute bowlers.
You can sign up on the Bowling Club clipboard by the Activities office or email our bowling Secretary/Treasurer, Jim Beley, at jammerjim114@gmail.com.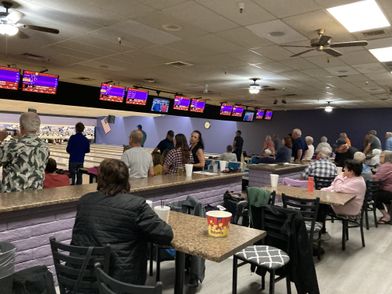 Check back later for updated information
We bowl Wednesday evening 6:20P.M. at mesa east bowling alley located at 9260 East Broadway Mesa AZ 5208
Dues are $15 weekly for 11 weeks January through March
IMPORTANT DATES AND TIMES
Opening meeting is Jan 6, 2024 in Green room at 11AM
1st night of bowling will be January 10,2024 6:20 PM at :
Mesa East Bowl
9260 East Broadway Road
Mesa, AZ 85208
480-984-1158
Mesaeastbowl@gmail.com
Last night of bowling will be March 20, 2024 and the closing meeting and Banquet will be Friday March 22,2024. GO BOWLERS!