COVID19 GUIDELINES
@ ROADHAVEN RESORT
This season 2022-23 we will do everything we can to make you feel safe.
Please read Roadhaven's COVID19 guidelines and review our benchmarks on this page.
Transparency is key, from us to you and from you to us: we cannot mitigate COVID-19 one sided. It is extremely important for us to know how many COVID-19 cases we have in the park so we can manage the situation appropriately; we do not want to advance on covid protection levels if it is unnecessary and we need your help to make timely and informed decisions.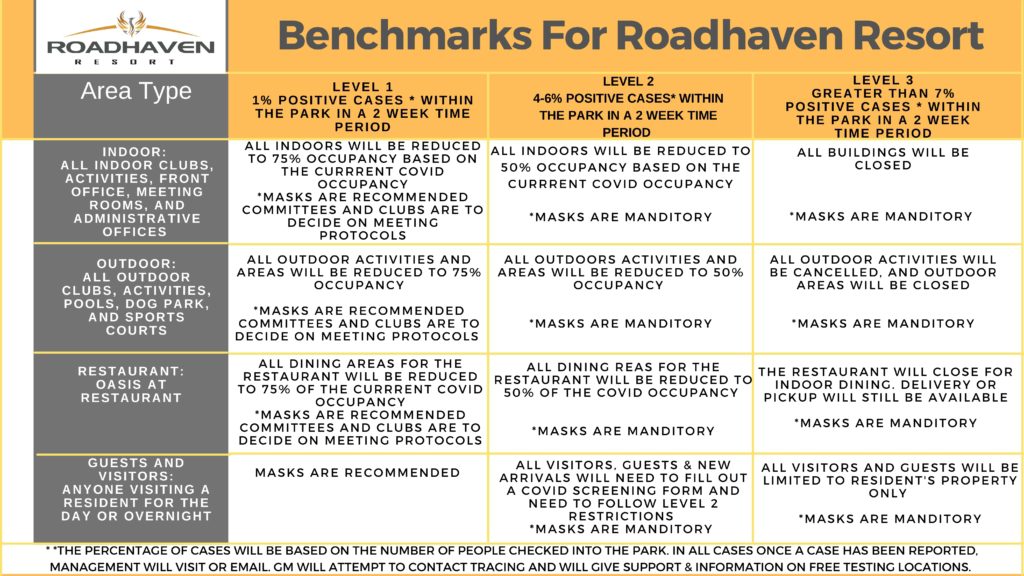 Above are all COVID19 benchmarks for the operations of Roadhaven Resort for the  2022 – 2023 season. The Arizona law related to COVID19 is A.R.S. § 12-515 if you want more information. 
If you would like to wear a mask and need one, we will have them available in the front office for free. Clubs will have all  the cleaning and sanitizing supplies they need, hand sanitizing stations have been installed in  every common building, and we have added another full-time staff member to the housekeeping  team who will work the third shift and concentrate on deep cleaning while clubs and common  buildings are closed. 
If you have tested positive, please do not come into the office. We ask that you report your positive test via phone, email roadhavengm@gmail.com , or fill out the confidential online form (insert link). We will ask you the following questions: 
1) When did you first start feeling ill? 
2) When were you tested? 
3) When do you go back for a retest? 
*Please note, YOU WILL REMAIN ANONYMOUS. No person's name shall be released to anyone. 
Being COVID-19 Positive or any signs or symptoms of being ill,  we ask that you remain in your home at all times. If you must leave  your home for any reason, wear a mask. If you do need someone to pick up groceries or  medication, call the front office and we can get someone to do this for you. Once you have  tested negative, let the office know so that we can update our records. 
With full cooperation, we will follow the COVID Protection levels based on the following criteria:
Safety: Safe work environment that minimizes risk for staff and our residents
Agility: Built-in flexibility and adaptive response to an evolving situation
Service: Maintain exceptional customer service to our residents 
Data: Informed decision-making that allows us to iterate along the way
Thank you for your cooperation and remember; only you can prevent the spread of COVID-19 in  Roadhaven.