The Creative Craft Club has members who are involved in a variety of activities. Through the  winter we have members who make quilts or bags, some who do needlepoint, card making, zipper art, knitting, and a variety of other fun projects.
Through the many classes that are taught and attended by members during the season, we are always learning new techniques and crafts.
We also make quilts for Bags of Love that are donated to a local church for distribution to children that are displaced from their home. The ladies at the church add toys, games, toothbrushes, and other items to the bags. The children that receive the bags are from ages birth through 18.
We have Show & Tell every Friday morning at 9:00 in the Dakota Room. We love to have guests and non-members join us there!
Every year we have a quilting 101, 202, and 303 set of classes for beginning sewers, intermediate sewers, and advanced sewers.  All levels of sewers are welcome.
We welcome all to come to see what we do.
LATEST CLUB ANNOUNCEMENTS
We've had classes in November/early December on making a cosmetic bag, creating a Christmas Wall hanging with curved pieces, and making Christmas table runners.  As well, we enjoy our weekly Show and Tell at 9 am in the Dakota room.  Come and see what's new!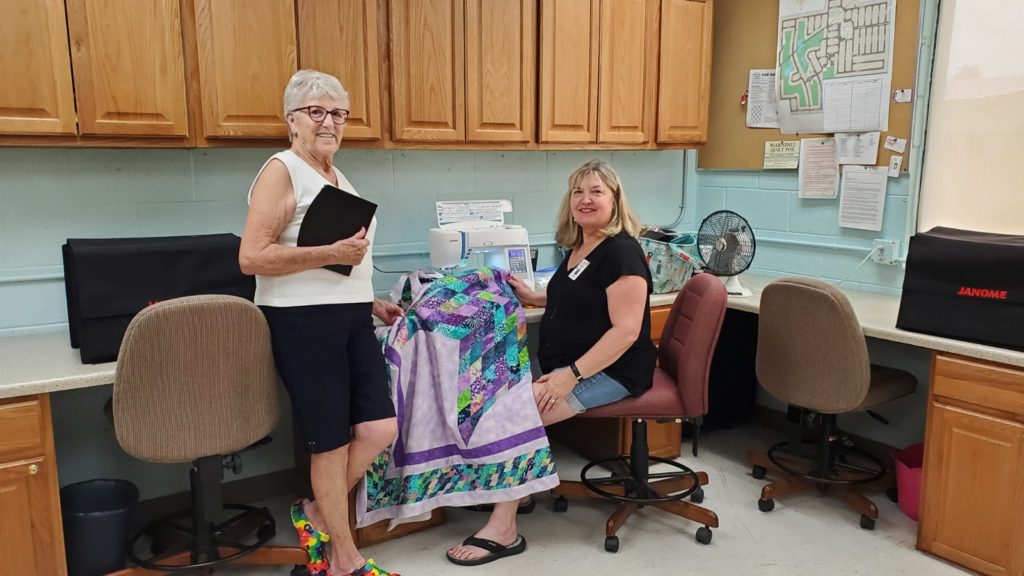 We are looking forward to the annual Club OPEN HOUSE on January 10th, 2024.  Come and visit our sewing room and see the display in the Dakota Room next door,  We'll have goodies for you – and a draw every hour!  Don't miss it!
Click HERE for Calendar
Question:
Many people ask, "How do you join Creative Creative Crafts"?
Answer:
It's easy!  You come by the Craft Room, knock on the door (you'll get the code for the door after you join) come in, look around, and then pay your dues and join.
Question:
Do you have to be an expert to join?
Answer:
No, we have classes for all levels of sewers.
Membership is $20 per season
IMPORTANT DATES AND TIMES
Members may use the Creative Crafts room daily. Every Friday morning we have Show & Tell in the Dakota Room. That is fun and we love to see new creations and hear about new ideas. All are welcome to attend Show and Tell!
On the first Friday of each month we have a members' meeting immediately after Show & Tell to discuss upcoming events and news about our club.
Open House is January 10th. Come and meet us and see our space!
Summer Hours effective May 1, 2023. Club and facility is closed for summer.