If you enjoy our beautiful Arizona mountains and deserts, the Roadhaven Hiking Club has some fun in store for you! We schedule hikes for people at various levels of fitness and experience, from short hikes on level terrain to long treks up mountains or down into canyons. We offer several hikes most weeks, and we are also making plans for an overnight camping trip in March. In between those activities, we are arranging for monthly socials during the winter. To learn more about the hiking club, come to the hikers' bulletin boards in the new fitness center. You can see which hikes are being offered each week and get more information. Come and enjoy Arizona's breathtaking views with us!
LATEST CLUB ANNOUNCEMENTS
Reservations have been made for March 2024 campout to Roosevelt Lake Grapevine Group Campground – for more info or if not signed up can contact Edith Anema at ebanema@yahoo.ca
The photos below are from this year's campout hiking at Chiricahua National Monument.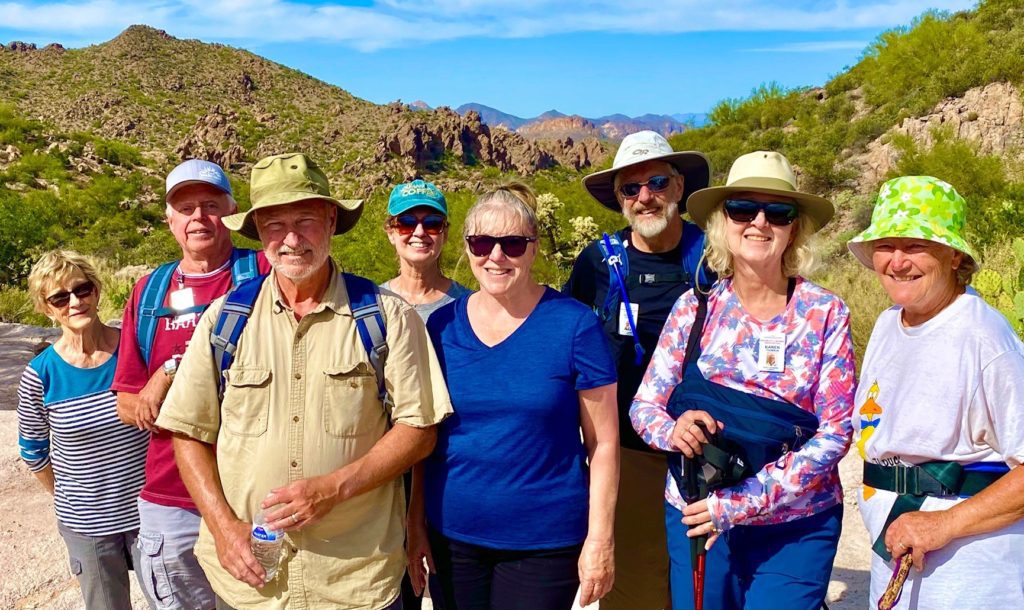 Hike to Barnhardt Trail on Monday March 20th leaving 7 am. Information / sign up on hiking board in fitness room.
Q. Where do I sign up for hikes?
A. The new hiking board location is in the new fitness center. The sign-up sheets are on the board under the correct day's heading.
Q. Do I have to pay to hike?
A. The dues for the hiking club are $5.00 per person for the season. The hikers also make voluntary fuel contributions to the drivers. Hike leaders make suggestions as to amount on each signup sheet.
Q. Are there social activities?
A. Yes – once the social committee members arrive at Roadhaven, they will be planning some social get togethers for club members.
Q. If I'm a new hiker not sure about joining the club, can I try it out first?
A. Yes – you can join in on two hikes of various levels to see if hiking is for you before joining.
Q. Who do I contact if I have questions?
A. Any of our officers can answer your questions. They are:
President – Warren Emery box 2072
Vice President – David Hogeland box 1508
Secretary – Marilyn Carver box 1200
Treasurer – Steve McGann box 1569
There are no membership requirements. Anyone may try out a Hiking Club hike two times before paying any dues. After that, dues are $5 per year.
IMPORTANT DATES AND TIMES
Official leader led hikes from November to end of March
Our morning hikes are on Monday, Tuesday, Wednesday, and Thursday. Friday. Most hikes leave the resort at 8:00 am. Please double check the bulletin boards for times. We ask that you show up 10 minutes before we depart.
For more information contact:
Edith Anema, ebanema@yahoo.ca
2119 Cherokee
Sorry – no phone yet!