In the Lapidary shop we cut, shape, polish and tumble rocks. From big boulders to tiny stones they can become a work of art. Make clocks, coasters, topiary and candle holders. Polished rocks also make beautiful jewelry! Lessons are offered.
LATEST CLUB ANNOUNCEMENTS
Our Fundraiser Raffle ticket sales are going very well. So far, there are 60 plus items that have been handcrafted by the Lapidary/Siversmith members for our joint fundraiser raffle. These are displayed in the show cases at the Lapidary shop. The draw is March 11th at the Roadhaven Craft Fair. Tickets will be sold until 11:30 a.m. The draw will immediately follow.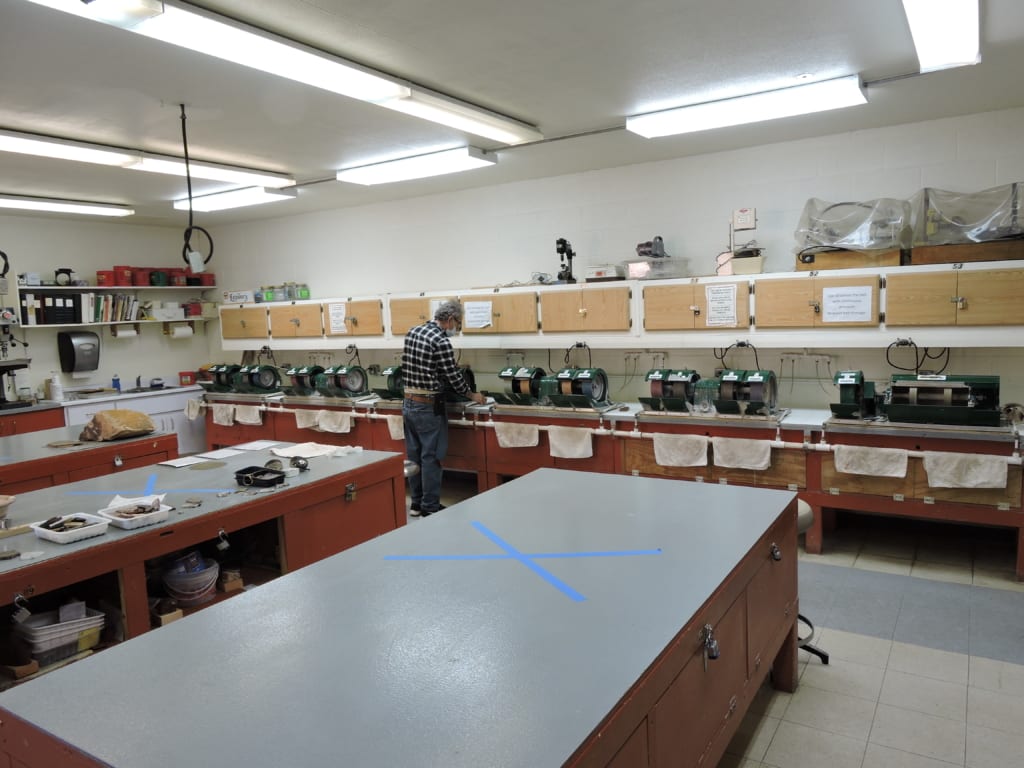 The club is doing a fundraising raffle for items hand crafted by our members on March 11, 2023 at the Roadhaven Craft Fair.
Tickets are available from any Lapidary member and also at the shop.
We will be at the January and February Craft Sales selling tickets.
The tickets are 6 for $5.00 or a single ticket for a $1.00.

The Lapidary and the Silversmith Clubs do the Fundraiser as a joint venture, with members from both clubs crafting the items raffled off.
All residents of Roadhaven Resort are welcome and all the equipment you need is provided. Even the rocks to get you started, unless you have a favorite one that you want to cut and see what's inside!! The club is very fortunate to have many experienced members that are always willing to help. Lessons are available.
The membership fee to join the Lapidary Club is $20.00 for the season.
Lessons are available at a cost of $15.00 for 2 (two), three hour sessions.
IMPORTANT DATES AND TIMES
The Lapidary Cub shop is open Monday to Friday, 9:00 a.m. to 12:00 and 1:00 p.m. to 4:00 p.m.
Our monthly meetings are held the second Tuesday of the month at 1:00 p.m. 
Summer Hours effective May 1, 2023. Club and facility is closed for summer.