The Roadhaven Parketts is a Flag Bearing Marching Drill Team. Our club is made up of ladies who enjoy fellowship and exercise. We learn marching routines to use In the Apache Junction Lost Dutchman Parade. We present the colors of the American and Canadian Flags for various Roadhaven Clubs and events. Plus we just have a good time!
LATEST CLUB ANNOUNCEMENTS
We are excited to learn new routines this year headed by Sandy Magnan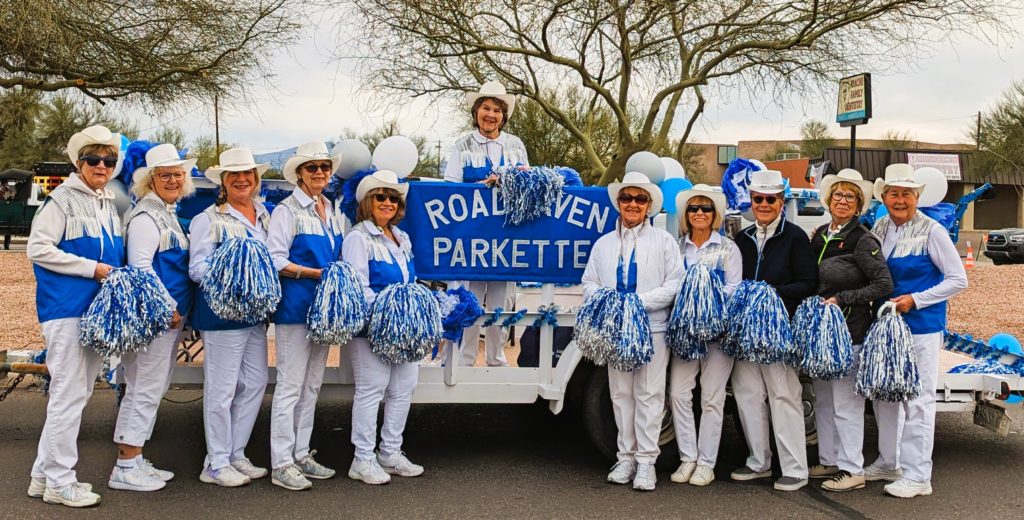 Possible events for the 2023/24 year include: Marching in the lost Dutchman Parade Presenting the colors for USA and Canada flags in a marching routine for various Clubs , such as the Chorale, Can/AM Softball , Shuffleboard Tournament, Par Tee Golf Gals Luncheon, Mardi Gras Parade and St Patrick's Parade.
Question:
Who can join the Parkettes Club?
Answer:
Anyone is welcome to join!
Club fees at this time are $10.00
IMPORTANT DATES AND TIMES
Please join us on Mondays at 1:00 to 2:30 in the Rec Hall. Meetings and practice will begin in December Days may vary, please call 1st. Call Club president with any questions. Nancy Little 509-994-2565