The Roadhaven Shuffleboard Club works hard to provide a structured organization with which to
operate and maintain the Shuffleboard Facility for the enjoyment and use by residents of
Roadhaven.
Arizona Shuffleboard Association provides all state and district info including the 2023 – 2024 all
district calendar Azaweb. They organize and direct Shuffleboard Fall and Spring in park
Leagues, tournament and novelty play activities along with providing learning opportunities to
interested residents of Roadhaven in shuffleboard game rules, strategies and play techniques.
Residents are allowed and encouraged to play in the organized Potluck games which are held
Monday to Thursday at 9:00 am.from November through to March New players can play 3
games before they have to register as a club member. Membership is $20 per year. Residents
are also encouraged to come out on Fridays from Nov. 17, 2023 – Dec. 15, 2023 at 9:00 am to
play Shuffleboard Hoss Collar. Cost is $1.00 for the 5 weeks. The Shuffleboard Club Spring
League starts January 5, 2024 and the sign up sheet is currently in the shed at the courts.
The Club hosts singles and doubles tournaments, also in park tournaments, Battle of the Sexes
Tournament and end of the season Can-Am Game (Canadians vs Americans). There are
several social events throughout the season.
New players are welcome to stop in at the courts any morning during the week to learn to play
and find out about membership.
LATEST CLUB ANNOUNCEMENTS
If you are interested in learning how to play shuffleboard, please contact Karen Fodchuk at 480-474-8283 or at email fodinsky@gmail.com for free lessons.
Come and have lunch at the Shuffleboard Courts and support our club!
Watch the games while you eat lunch!
Available while quantities last!
Jan. 30, Jan. 31 and Feb. 1 from 10:30-1:30
Mon. Jan. 30 Pulled pork, coleslaw & drink $7
Tues. Jan.31 Hamburger, Ice Cream & drink $7
Wed. Feb. 1 Brats, chips & drink $7
Hot dog, chips & drink $6
There will also be a 50/50 draw
Hope to see you there.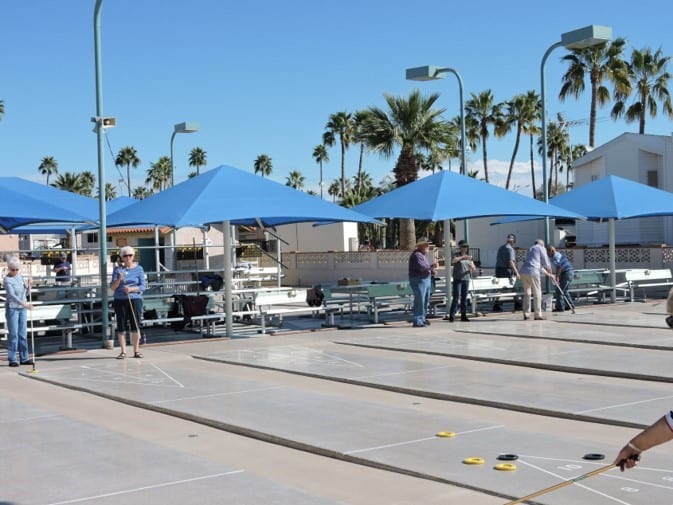 Membership is $20.00 per year.
IMPORTANT DATES AND TIMES
November 2023 -March 2024 
Nov.13-Dec.28 (9:00 am) Pot Luck 
Monday-Thursday 
Dec. 1 Decorate courts for Christmas 
Jan 2-5, 2024 Lost Dutchman Tournament 
(Roadhaven hosts Jan. 2 & 3) 
Jan. 5 Spring League starts 
Jan. 10 All Clubs Open House 
Jan. 11 Member's Monthly Meeting 
Jan. 12 Welcome Back Party 
Jan. 29 In Park Any Doubles Tournament 
Feb.5-8 Lost Dutchman Doubles Tournament 
Feb. 12 & 13 In park singles tournament
Feb. 15Member'sMonthlyMeeting Feb. 17BattleoftheSexes Mar. 15SpringLeague lastplayday Mar. 16Can-AmGame ]