The Fitness Club is one of Roadhaven's largest clubs, with membership varying from 350 to 450 members each year. The Fitness Club has been established in Roadhaven for more than twenty years, starting in the former Golf shop, expanding in that location, and moving to the new location adjacent to Phase 1 pool in the Fall of 2022. Lack of space has always limited the ability of the club to expand, although it has consistently been one of the bigger clubs in Roadhaven, in terms of membership. The new location allows good access to the strength and stretching equipment in the South portion of the facility and ample space for the aerobic and floor exercise space in the North portion. There should be opportunity for appropriate activities for all levels of physical fitness.
LATEST CLUB ANNOUNCEMENTS
Club Meetings: Club Board meetings are scheduled for the second Wednesday of each month of the season at 4:00 PM in the Dakota Room. All members are welcome to attend to hear club updates with an opportunity to provide input to the Board. Maintenance Night: Our monthly maintenance and cleaning evening is scheduled for the third Thursday of the month at 7:00 PM in the Fitness Facility. The schedule is for the normal season of November thru March.
Club members are invited to help clean and maintain our excellent equipment. This volunteer effort helps keep our annual fees low. Group Exercises: We are currently looking for new group leaders. Watch here and Fitness Facility bulletin Boards for new information. Elevated Stretching Bench: Stretching exercises are important–even more so as one ages. The Fitness Club has installed an elevated exercise platform on the West wall so that us seniors do not have to get on the floor to do our stretching exercises. We have special instructions on how to lower and raise the "Murphy Bed"
Murphy Bed Instructions Click HERE
In general, treat the "Murphy Bed" gently and make sure to unfold the legs when opening and then folding up the legs when you are finished.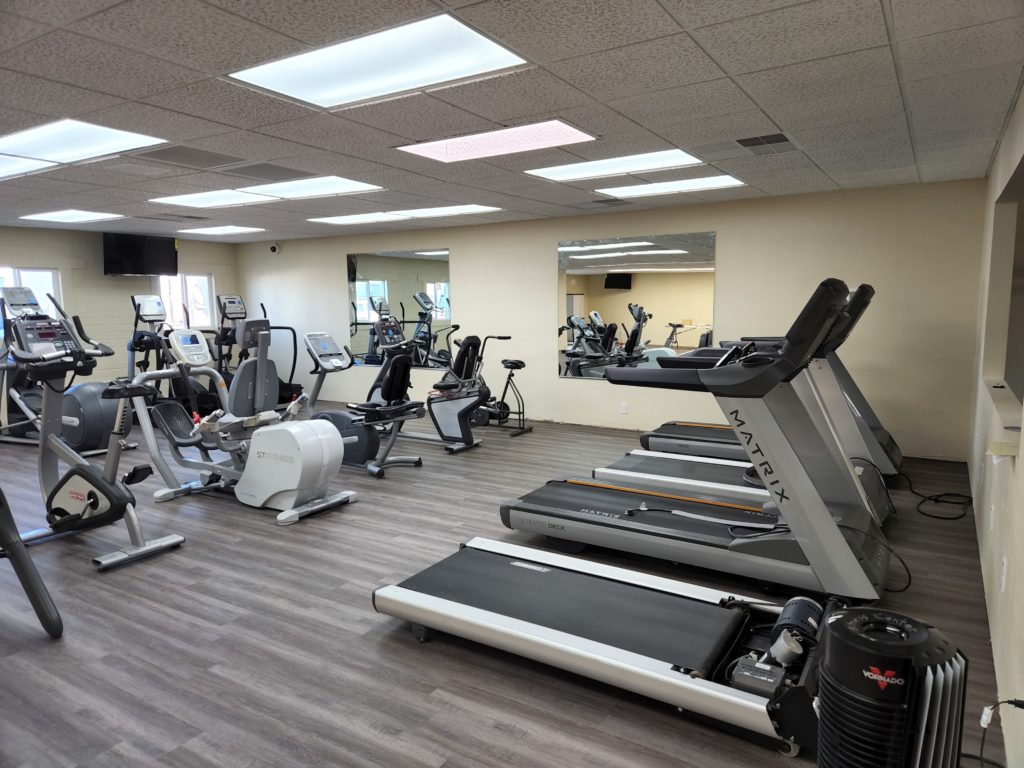 Massage Therapy and a Fitness trainer functions are now available in the Fitness Center. See information on the website under amenities.
All Roadhaven residents are encouraged to participate. Just dress appropriately for the level of exertion you expect to put forward. We have shoe benches at each entrance, should you wish to use other than street shoes in your workout. Why exercise?  Why bother?  What are the benefits? Well, on a search of the internet, I've found out the following:
Exercising improves cognitive function and improves brain plasticity, meaning, your brain (read that, you) will be able to function a little better than if you did nothing at all.
Stretching and flexibility exercises help to prevent injuries, help to reduce muscular pain and improve our posture, balance, mobility and athletic performance. In- park athletes who participate in sports such as bocci ball, shuffleboard, golf or pickleball, for instance, should take note.
By exercising, our bodies allocate energy to processes that slows the body's gradual physical deterioration and guards us against chronic diseases such as cardiovascular disease, Type 2 diabetes and some cancers. 15-20 minutes a day is all we need.   We don't need to work up a sweat, we just need to do something.
Physical activity also causes the release of exercise-related antioxidants and anti-inflammatories, and enhances blood flow, like to the brain. See the first point.
The body's response to exercising is to build back stronger, repairing muscle fibers, repairing cartilage damage and healing microfractures. The cellular and DNA repair processes lower the risk of obesity, osteoporosis, Alzheimer's, and depression.
The fees charged for membership go to the operating of the facility and the purchase and maintenance of the equipment.
Fitness Club year goes from July 1 to June 30th and the fee is $25 per person, with a price break for couples at $40. We also have a guest rate of $5 per person that is good for two weeks.
Membership application forms are available adjacent to each entrance to the facility (as well as on the website), along with a supply of envelopes. Just fill in the form, enclose the fee indicated, and mail in the in-park mail. One of our volunteers will send you a badge sticker by return mail, along with your member number.
We ask you to sign in and out with your member number on the clip board adjacent to whichever entrance you use. Please use the gym as soon as you are able – do not wait for your member number – just write "applied" in the space for the number.
Due to the migration of volunteers, Fitness Club will stop processing membership applications for the 2022/3 season in early April 2023. You can still apply, but the application will be held in in-park mail until November. Yes, please go ahead and use the Fitness Center – it is open 365 days a year. One caution – if you pay by check, it may become stale-dated by the time it is processed, depending on your bank's policy on such things. If the application form you use says 2022/3 and you want to apply for the next season, just change it to 2023/4 with a pen. The online form will be updated. Membership fees remain unchanged
IMPORTANT DATES AND TIMES
Fitness club meets on the second Wednesday of each month at 4 PM in the Dakota room, November through March. All members and prospective members are welcome to attend.
Prime Season hours are effective October 1 to May 1. The Fitness Facility is open 5 AM to 10:00 PM, 7 days a week.